Report: Chinese viscose sector's sustainability roadmap fails to deliver
A new report, "Dirty Fashion: Spotlight on China", by the Changing Markets Foundation found a new sustainability initiative from Chinese viscose producers short on ambition and not able to meet NGO requirements on responsible viscose, which have been endorsed by leading fashion brands.
The fashion industry's third most commonly used fabric, viscose — otherwise known as rayon — is a manufactured fiber made from regenerated cellulose, or wood pulp, and has been a major contributor to deforestation around the world. Earlier this year, the Collaboration for Sustainable Development of Viscose (CV) launched a three-year Roadmap, which claims to provide a way for Chinese viscose producers to achieve sustainable supply chains. However, Changing Markets, which has been investigating and campaigning on sustainable viscose production since early 2017, finds that the CV Roadmap allows members to pick and choose between different standards, and lacks ambition and transparency.
"At a time when major fashion brands such as Next and Inditex are sending a clear message to their suppliers to commit to responsible production of viscose, it is hugely disappointing to see such shortcomings in the CV Roadmap," said Urska Trunk, Campaign Adviser at Changing Markets. "It is a weak attempt to clean up the Chinese viscose industry and much more needs to be done to ensure that Chinese producers are aiming for the same level of ambition as other industry players. In its current format, brands and retailers should not consider membership of the CV initiative and commitment to the CV Roadmap as proof of good environmental performance."
The rapid development of China's textile industry has become one of the biggest threats to its environment. China is the largest textile producer in the world and has a 63 percent share of the global viscose market. The new report also highlights that Chinese viscose factories — including sites operated by the members of the CV initiative — continue to violate government regulations.
After analysing the CV Roadmap, Changing Markets' report finds that it:
Lacks ambition, by not obliging its members to achieve the highest level of the Chinese Clean Production Standard for viscose (which the Chinese government itself recommends for companies selling to the international market) or a standard that would align with the most ambitious current guidelines for cleaner viscose manufacturing: EU Best Available Techniques (BAT). The world's two largest viscose manufacturers — Lenzing and Aditya Birla Group — have already committed to achieving EU BAT, which is the standard supported by several leading fashion brands and retailers through their commitment to the Changing Markets Roadmap.
Allows members to pick and choose from a selection of certification standards and industry self-assessment tools, which have been criticised by NGOs for their lack of ambition (for example the PEFC standard for wood sourcing) or for failing to take a holistic approach (e.g. by only certifying a small part of the supply chain or simply the quality of the end product without addressing environmental impacts from manufacturing).
Lacks clarity and transparency, by failing to provide publicly available information about how the Roadmap will be enforced, monitored, verified and whether it will sanction non-complying members.
As a biodegradable fiber, viscose has the potential to be a sustainable alternative to oil-derived synthetics and water-hungry cotton. However, many viscose manufacturers have yet to adopt responsible production methods and sustainable wood sourcing practices. Changing Markets has released a Roadmap of its own — the Roadmap towards responsible viscose and modal fiber manufacturing — which sets the viscose industry on a pathway to closed-loop manufacturing in line with EU BAT. To date, eight major brands and retailers — Inditex, ASOS, H&M, Tesco, Marks & Spencer, Esprit, C&A and Next — have publicly pledged to integrate Changing Markets' Roadmap into their sustainability policies.
Sara Bermudez Couto, Head of Product Safety and Environmental Sustainability at Esprit, said: "We are engaged in working on the Changing Markets Roadmap towards more responsible viscose & modal fiber production. Achieving this ambitious roadmap is only possible by a joint approach of all stakeholders in the different areas of the viscose industry. We are looking forward to be part of this work and move the viscose manufacturing forward towards a more sustainable industry."
"Committing to the ambitions of the Changing Markets Roadmap towards responsible viscose is crucial," said Felix Poza Peña, Chief Sustainability Officer at Inditex. "By working together towards these goals, we are able to align our expectations of viscose manufacturers and build the critical mass necessary to accelerate positive change across the industry."
Changing Markets is not alone in its work to clean up viscose production: Many of the above-mentioned brands and over a hundred others have also signed onto the CanopyStyle initiative — an ongoing campaign by conservation NGO Canopy to reduce the impact of wood sourcing and the viscose supply chain on ancient and endangered forests. This collaborative approach has had a considerable impact: Together, Canopy and its brand partners have already helped put 25 million acres of the world's carbon and species rich forests under formal protection or moratoria from logging. 70 percent of the world's rayon-viscose producers have developed formal CanopyStyle commitments to stop sourcing from ancient and endangered forests, and 25 percent of the world's viscose supply has been verified as low risk of containing fiber derived from ancient and endangered forests by CanopyStyle Audits.
While there has been considerable progress, Changing Markets' investigations in 2017 found that companies supplying viscose to global fashion brands were still dumping toxic wastewater in lakes and waterways, destroying subsistence agriculture and fisheries at multiple sites across India, Indonesia and China. In addition, communities living near some of the plants spoke of a lack of access to clean drinking water, sickening smells and higher incidence of serious diseases such as cancer. Dirty Fashion: Spotlight on China sets out a series of recommendations to reform the CV initiative in line with responsible production methods and also for responsible wood sourcing.
---
A tree-free rayon made from liquid waste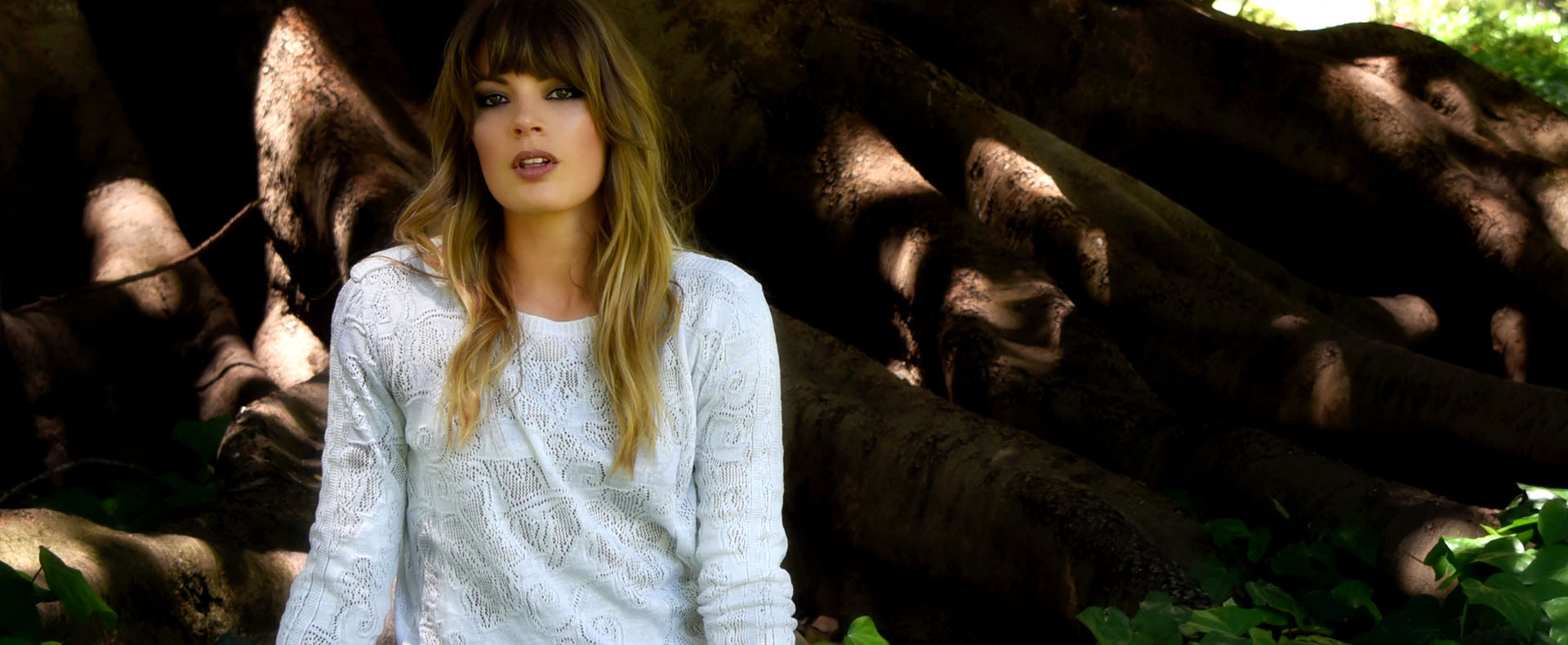 The sweater is the first of its kind and marks a breakthrough for an industry that is urgently seeking sustainable alternatives to clothing made from traditional rayon and cotton, both of which cause significant environmental issues.
Nanollose Managing Director Alfie Germano said: "We have successfully taken waste and created clothing, and we have done it following industrial protocol. Our fiber was spun into yarn and made into fabric, then manufactured into this garment using existing industrial equipment. It validates our entire process."
150 million trees are cut down each year, then chipped and treated with hazardous chemicals to extract the raw material used to make viscose/rayon fibers for clothing. By contrast, Nanollose's Nullarbor fiber is made without harming a single tree.
"We didn't have to cut down any trees to create this sweater, and we have now demonstrated that our Tree-Free Rayon fiber can be used in the same way as other commonly used fibers to make clothing and textiles, without the hefty environmental footprint," Germano said.
Nanollose's innovative biomaterial technology process begins in a facility where microbes naturally ferment liquid waste products from food industries into cellulose, a cotton-like raw material that then is transformed into their Nullarbor fiber. Previous innovations from Nanollose include textiles made from wine and beer.
The process to produce cellulose requires very little land, water or energy and the production cycle is just 18 days, compared to the eight months seen in the cotton industry.
"We believe that we are the only company producing Tree-Free Rayon fibers from waste, and we have now reached a point where our technology is moving out of the laboratory and into the factory," Germano said. "Once we achieve this increased scale, manufactures will have an alternative, eco-friendly option available to them."
To ensure Nanollose can supply future partners with commercial qualities of fiber, the company is developing a supply chain within an ecosystem around waste from the Indonesian coconut industry (along with waste streams from other industries), and aims to significantly increase fiber production over the next 3-6 months.
"We are a technology company that has also become a steward in facilitating a new raw material supply chain. The goal is to work with key partners who will simply take waste (instead of trees), produce our Nullarbor fiber, and seamlessly integrate them into their clothing supply chain with no retrofitting to existing machinery or processes required," Germano said.